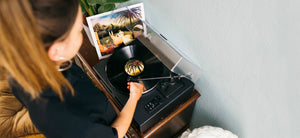 Keep your vinyl clean
As a record plays, the stylus tip tracking the groove can pick up dust and other contaminates from the vinyl record.
Disocver accessories
Lenco
Your music experience
Searching for an innovative product? Or a product with a nostalgic touch? Lenco offers all ingredients for your personal music experience. Our products are not only known for their usability, but mostly because of their attractive price to quality ratio. Lenco has been synonymous with Swiss engineering precision in the Hi-Fi and consumer electronics field for more than 70 years. So we know how to make our customers happy.